Hey All!
I told you all another Ladies with their Fur Babies Halloween Costume idea was coming in my Rainbow Cotton Candy Post and here it is! It's matching DIY Emoji Costumes! How cute and simple to make are these. They are so fun and comfortable to wear as well. The bonus is it will probably just take you maybe an hour to make all the costume pieces. You could honestly do this with any emoji, but the heart eyes emoji is my favorite. 😍 It's just the cutest of the bunch in my opinion.
Here is what you will need to make these fun costumes.
Yellow Head Band or White Headband (You Can Spray Paint Yellow With Yellow Spray).
Yellow Spray Paint (If you need to spray paint your headband).
Fabric Glue.
Scissors or Cricut Explore Cutting Machine.
1 Yard of Yellow Stretchy fabric for the dog costume.
White CardStock
Sticky Velcro.
Yellow Dress.
Yellow Shoes.
Yellow Tights and Heart Sunglasses (Optional)
Fabric Marker.
Red and Black Vinyl.
Old Dog Costume.

First you print out the emoji face, lips, and eyes that you'll need to cut out for your head piece and costume pieces. You can also download the heart eyes and mouth image and upload the images into your Cricut design space to cut them out with your Cricut. How ever you decide to make it will be fine!
You can click on the image to download a PDF Printable to print out or you can right click to download the images BELOW.
I cut my heart and mouth pieces for my costume and shoes out of the red and black vinyl with my Cricut Explore, as it makes like so much easier. If you don't have the Cricut Explore, you can print out each shape and use the images as a template as you cut them out of your red and black vinyl with scissors. You'll have to shrink the images on your computer to make them the correct size for your shoes. Or you can just free hand and cut out hearts and black slit mouths for your shoes. How ever you make it, I'm sure it will look cute! It's DIY people, It doesn't have to be perfect!
First you make your emoji shoes by sticking on the heart eyes and mouths to each of your yellow shoes. I got my yellow shoes on Amazon for like $10!
You then place a little fabric glue behind your large emoji heart eyes and mouth before sticking them to your yellow dress. This will ensure your vinyl doesn't start to slip off or un-glue itself from your dress. Be sure you don't want to wear this dress again, besides it being your costume, as you will be gluing things to this dress! The vinyl seems to hold well on pleather aka fake leather on the shoes, so you don't need to add any fabric glue. If your shoes are made with a fabric, I would use the fabric glue.
Once you have your Emoji dress and shoes done, you can move on to making the dog costume. How cute are these shoes? I'm beyond obesessed with them! I could wear them every day honestly!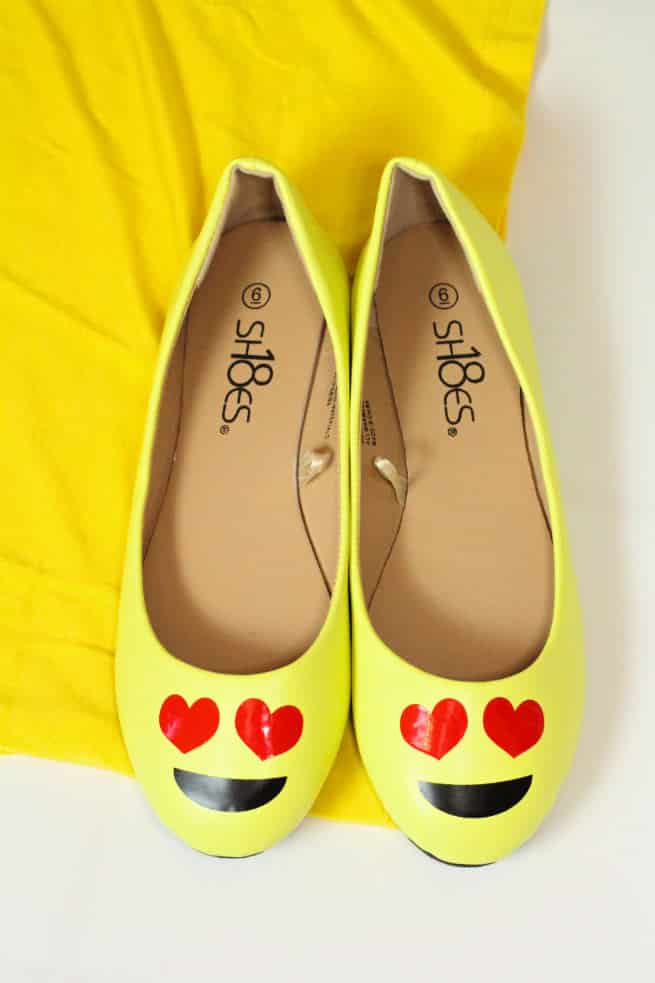 To make the dog costume, I used an old dog Halloween costume as a template to cut his costume out of. I traced the shape of the costume with a fabric marker and then cut it out of the yellow stretchy fabric.
Once the shape was cut, I added my sticky velcro on the outside and inside of the flaps of the costume. These are what will hold your dogs costume in place.
Once you're done making the shape and adding the velcro to the flaps, you can then add some fabric glue to the back of your heart and mouth pieces of red and black vinyl and stick it to your dog costume. You're not adding a lot of glue to the back, just a light brushing.
Once the dog costume is done, it will look like this!
How cute is that? I just want to squeeze him up because he looks so cute.
People will love your shoes, I can guarantee it!
They were even a hit with our Dog Mr. Pink!
The shoes and his costume look like a match made in heaven!
Mr. Pink was very comfortable in this costume, because it is light and doesn't take any work to get on.
He can't wait to wear this on one of our many Halloween day walks.
I hope you enjoy this fun Emoji Themed Halloween Costume DIY for you and your fur baby! I have more of these fun Ladies and their fur babies costumes planned, so stay tuned!
If you decide to make these fun costumes, be sure to share some pics with me by tagging me @BriteandBubbly on Instagram, Twitter or Snapchat with hashtag #BandBHalloweenParDIY, so I can see all the fabulous Brite & Bubbly Costumes out there!
For more DIY Halloween Fun ideas and recipes CLICK HERE!