Hey All!
I LOVE Halloween! Just in case you didn't know. It's my favorite holiday, hence why I go all out each year on the blog for it. I have soooo many costumes to share each week and we'll probably keep going until the week before Halloween. We will also be posting non-Halloween posts through out, so we're not all Halloween everyday. Just an FYI! Today I'm sharing my DIY Fairy Bread Costume, which I know you have all been waiting for. This probably my favorite costume that I've ever made. It's so fun and easy to make. It's also very easy to wear as well. It's complete with a fairy bread head piece as well. Here is how you make it!
To make this super cute costume you'll need:

First you cut out your large bread shape from your foam. This will be your body piece. Cutting the foam is the hardest part as you have to shape it with your scissors as you cut. Once you cut your big pies out, cut out your small bread piece for your head piece as well. The head piece bread shape should be about 6 inches by 6 inches in size.
After the bread shapes are cut, you'll then take them outside or to a well ventilated area and spray paint the front of the bread edges and around the edges of the bread the toffee colored spray paint. You'll spray the large and small bread shapes at the same time. Let that color dry. Then spray paint just the edges of the bread pieces with the Sand color spray paint. This gives it that bread crust look. You'll also let that color dry. You can see how it looks up close below.
Lastly, you'll spray paint the front of your bread pieces with the Shock White spray paint. This completes the bread look of the pieces. Let both large and small bread shape pieces dry completely.
Once they are completely dry, begin to hot glue on your pom poms to the center of the bread pieces.
I used a mix of small and medium pom poms on the large piece and an mix of small and mini pom poms on the head piece. I also glued some scattered along the edges, so it looks like the sprinkles were scattered on the bread.
I did the same thing with the small head piece. It's so darn cute! I'm obsessed with the itty bitty pom pom sprinkles!
Let all the pom poms dry onto your bread pieces completely. You'll then glue your small fairy bread to a white head band with your glue gun. Careful as you do it as that hot glue will burn you!
You lastly glue a looped piece of elastic to the top of the large bread piece so you can put it over your head and the bread piece will hang off you. It does not weigh, so no worries about that!
Put on your white dress, pom pom tee, and which ever shoes you like best from the ones I mentioned and there you have the cutest DIY fairy bread costume ever!
All hail the fairy bread costume! It's just too much fun!
It just makes you happy the second you see it and the feeling is infectious. I can't tell you how many people stopped to take pictures of this while we were snapping these pics.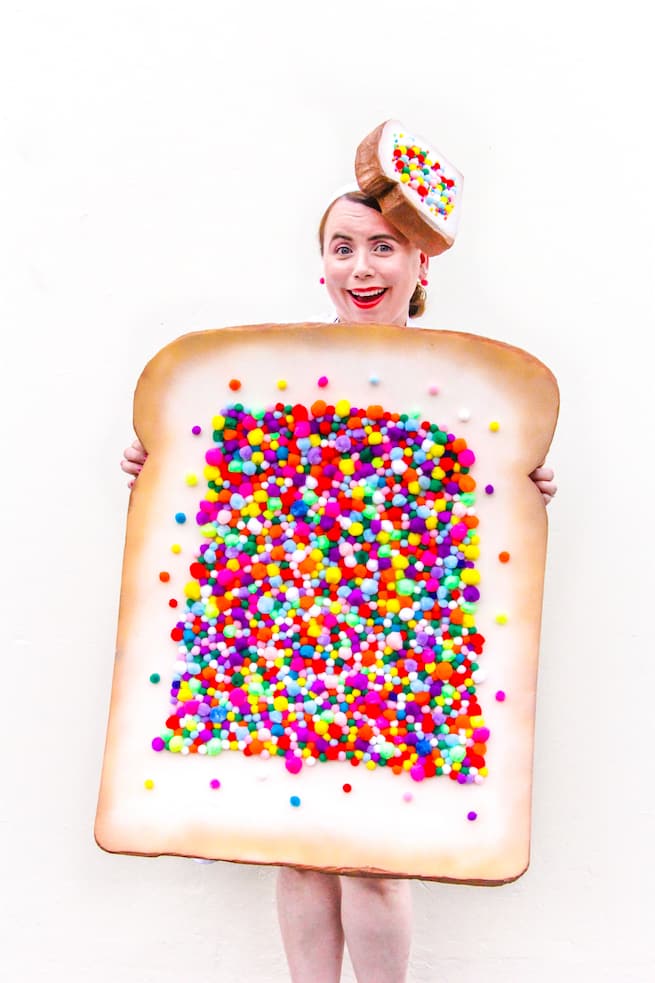 You will definitely be the life of the party with this adorable fairy bread costume. I know all my Aussie readers and followers will surely love this costume!
It just makes you want to dance as soon as you have it on! There is nothing better than some dancing fairy bread folks!
Can you tell how much I love this costume folks? Again, I'm so obsessed with it and love how it came out!
I hope you enjoy this super cute and semi-easy to make DIY Fairy Bread Costume as much as I do!
If you decide to make it, be sure to share a picture on any of your social channels and tag it #BubblyCostumeTime so I can see! I love seeing all my fabulous readers as fairy bread. It will be the cutest thing ever!
Don't forget you can also be a toaster pastry for Halloween as well!
You can find more Halloween Costumes and Halloween fun HERE!