Hey All!
The holidays are here and it's usually the time of year when we drink a lot more sugary beverages. It's also a time where hot cocoa, warm apple cider, and hot pumpkin spice flavored drinks are in high demand. Needless to say, these drinks are filled with a lot of sugar and are not the best to drink all the time. Since it's cold outside, we tend to gravitate towards drinks we can snuggle up with and warm up with. We usually forget about the importance of drinking water this time of year and this year, I've decided to change that thanks to NESTLÉ® PURE LIFE® "Share-A-Smile™" Winter 8 oz. Edition bottles! Did you know that today, beverages account for 47% of added sugars in the US American Diet and more than 13% of calories consumed per day? Shocking, I know! The 2015 Dietary Guidelines for Americans recommends that the primary beverage consumed be either calorie-free – like water – or should contribute beneficial nutrients such as fat-free and low-fat milk and 100% juice. Replacing a single 12-ounce, 140 calorie sugar sweetened beverage with water each day for a year can cut more than 50,000 calories from one's diet. How awesome is that?!
Kids who drink 4+ glasses of water per day are more likely to frequently exhibit healthy habits, such as:
Getting their own water when thirsty
Eating fruits and vegetables at meal times without reminders
Requesting healthy food and beverage options for school lunches
Thankfully, we have some of the Nestlé Pure Life Winter Edition Bottles to help us get our water drinking habits back on track this holiday season. They are perfect for getting kids to drink more water this holiday season! They come in convenient 8 ounce bottles, making it easy for kids to stay hydrated throughout the season – either at home or on the go. Available in 8 different holiday and winter-inspired designs, the Nestlé Pure Life Winter Edition Bottles are the perfect addition to a cozy family night at home or any festive winter party!
Since kids make the case that cold drinks like water make their hands cold, I decided to make some DIY Snowman Mini Water Bottle Sleeves to solve that problem.
They can drink their water (both warm and cold) and their little hands won't get cold as they hold the bottle with these little sleeves.
To make these snowman water bottle sleeves you'll need:
Black, Purple, Pink, and Orange Felt
7 inch Pieces of White Fleece Fabric cut into a rectangular shape.
3 inch Pieces of White Fleece Fabric cut into a rectangular shape.
Hot Glue Gun
Scissors

First, you'll cut your pieces of White Fleece Fabric. You'll wrap them around the Nestlé Pure Life Winter Edition Bottles to make sure they wrap around the bottle completely. You'll then glue the ends of the fleece fabric together to make the sleeve around the bottle. Place a bottle inside to make sure the piece is a good fit.
If you have any excess fabric, cut it off. You'll them glue your 3 inch inch pieces of white fleece to each side of the inside of the sleeve piece. This will keep your bottle inside your sleeve!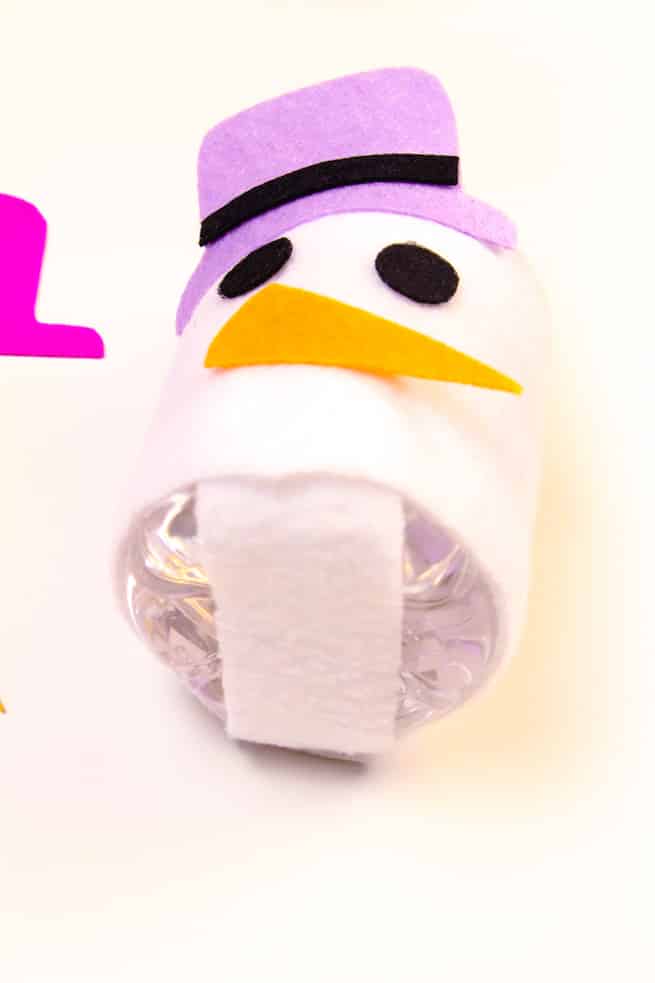 You'll then cut out eyes from the black felt, carrot noses from the orange felt, and hats from the purple and pink felt. You'll also cut out two little black rectangular pieces for the hats.
You then glue each piece on to your assembled white drink sleeves with your glue gun and let dry.
Once they are completely dry, slip the Nestlé Pure Life Winter Edition Bottles inside and hand them to your kids!
It's super simple and the sleeve will make drinking water all the more fun!
You can make as many as you'd like and you can also come up with your own designs for these sleeves easily. You could even slip these inside your kids stockings (with the water bottles) for an alternative and different kind of stocking stuffer this year!
I hope you and your family enjoy these Snowman Drink Sleeves as much as we do!
Who says water can't be the drink of the holidays? It certainly can be! It's also great to get kids in the mindset of thinking this way, so they will learn that drinking water is good for them.
The Holidays are the perfect time to start teaching kids the importance of healthy hydration.
You can also stay up to date on all things Nestlé® Pure Life® by following them on Facebook and Instagram.
Show us how you use celebrate the winter season and hydrate along the way with the Nestlé® Pure Life® limited edition "Share-A-Smile™" Winter Bottles with the hashtag #HolidayHowTo and #NestleWinterWater and by tagging @nestlepurelifeusa.
To learn more about Nestlé Pure Life Winter Edition Bottles visit their website Nestle-PureLife.com and you can find where to buy these bottles here www.nestle-purelife.us.

Thank you to Nestle® Pure Life® for sponsoring this blog post. All opinions are my own.
Save