Hey All!
Nothing screams it's Summer time like it's time to get out there and mow those lawns. For those of us who are city folks and don't have a lawn to mow, we can enjoy these cute Easy Mini Lawnmower Rice Krispies Treats instead! I'd honestly rather be munching on a lawnmower than outside in the heat pushing one. It's not for me folks, but I salute all those dedicated lawnmower pushers all over the world! This one is for you!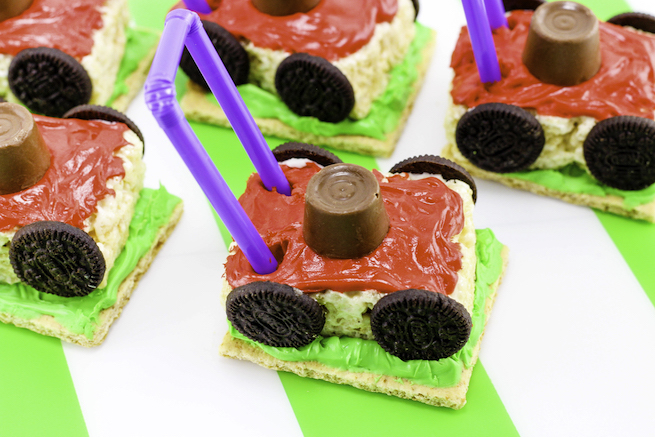 Here is what you'll need to make them!

6 Rice Krispies Treats
1 Tub of Pillsbury Red Frosting
1 Tub of Pillsbury White Frosting
1 pkg. Mini Oreo Cookies
6 Rolos Candy
12 Flexible Straws
Green Food Coloring
6 Graham Crackers

 First you'll cut the flexible straws in half. Discard the bottom half and keep the end with the flexible part.
Take 2 of the straws and fold the flex part and attach these together by pushing one inside the other. It will look like a "U" shape.
Take a Rice Krispy treat and spread red frosting over the top.
Place a Rolo candy in the center of it. Repeat this with the other 5 Rice Krispy treats.
Push the straw handles into each mower on one end of the treat.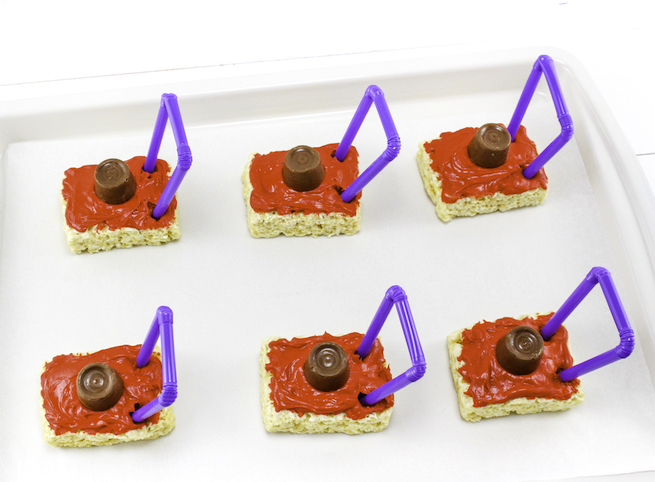 Take apart 12 of the oreo cookies and scrape off the filling. Using the white frosting, attach 4 of the cookies to each mower to look like wheels.
Color the white frosting with the green food coloring, and frost each of the 6 graham crackers to resemble a lawn.
Set a lawnmower on each green graham cracker.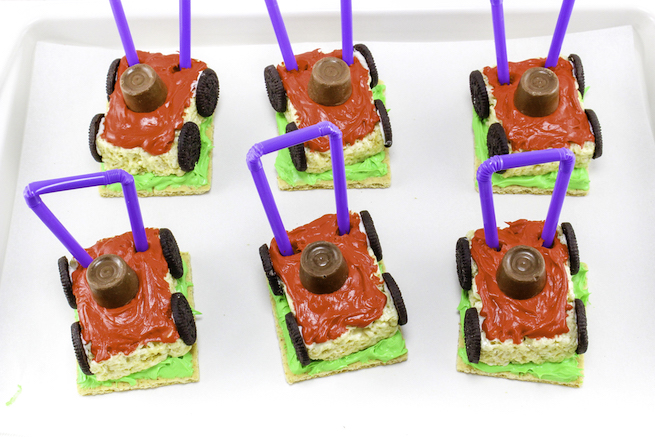 That's it! You're done! You have a fun summer treat to eat!
How cute are these folks? They aren't perfect, but they sure are fun!
I hope you enjoy these Easy Mini Lawnmower Rice Krispies Treats as much as I do!
Find more Fun Summer Recipes HERE!