Hey All!
I recently had the fabulous opportunity to attend the media preview of The Queen Mary Chill Holiday Event! It's always so much fun to visit The Queen Mary during the holidays. It's one of the most festive times of the year. I couldn't wait to go in order to report back on why it would be the place to visit for the holidays if you're in the Southern California area. Tickets to Chill would also make a great gift idea for the holidays! It is open during the following dates: Nov. 20-Nov. 29, Dec. 1-6, Dec. 8-Jan. 3 & Jan. 7-10. Tickets to Chill would be the perfect holiday gift for the whole family!
We made our entrance as the sun was setting. It's such a beautiful site to see at The Queen Mary.
We walked the blue carpet and we couldn't wait to check out Chill. We were dressed in our holiday best for the occasion.
The path ways to enter chill were covered in iridescent confetti to look like snow, which I loved!
Once we got in the sun had set and we were ready to get out holiday chill festivities on. The giant dome – once home to the legendary Spruce Goose – is frozen over and transformed into a giant igloo and home to The Ice Kingdom – an awe-inspiring 13,000 sq ft walk-thru exhibit featuring larger-than-life ice creations some towering over 2.5 stories tall and made using over two million pounds of ice! You read that right folks! But don't forget to grab a parka and gloves – temperatures drop to a numbing 9-degrees inside the Ice Kingdom. I recommend wearing a coat under the parka as well, because it's way too cold in there for just the parka alone.
In addition to the enchantment of The Ice Kingdom , Chill also features Ice Tubing , Ice Skating*, an all new North Pole Village, Swinging Sleigh Ride*, Giant Rocking Horse, Polar Paintball*, Illumination Candle Making Shoppe, an Enchanted Garden and Hedge Maze live music, holiday carolers and so much more!
We got to experience it all and it was so much fun!
The giant rocking horse was epic.
There were tons of places to get drinks and tasty treats like Scrooge & Marley's Pub…
Mrs. Clause Sweets Shop…
And Rudolph's Pizza to name a few.
We sipped drinks from these light up Chill mugs that were so much fun.
You can check it out in action in the video below. Don't stare too long!
You can also do some Christmas shopping while you're there by building your very own custom candle at the New Illumination Candle Shoppe. A perfect gift for just $9. Choose the shape, scent and color, build it in just minutes and watch the candle maker pour your creation. Pick up your finished candle just one hour after you make it! It's located in the New North Pole Village. The hours are from: 10AM-10PM.
You can also head down Candy Lane and head toward a full sized Gingerbread House.
There you can decorate Gingerbread with Ginny Gingerbread and The Singing Baker inside the life-size cozy Gingerbread House. You can choose from five flavorful kits starting at just $14. Quantities are limited! No admittance without CHILL ticket.
It was one of my favorite places to visit. I'm obsessed with gingerbread cookies and houses. I just think they are beyond adorable. We couldn't wait to snap pics with Ginny Gingerbread!
They also have all New Polar Paintball for the older kids and adults. It's an interactive twelve-position paintball shooting gallery featuring The Mountaineers animated North Pole expedition. Experience the action for just $10.
There is the rare opportunity to go ice-skating at this lovely rink in front of The Queen Mary.
They had an amazing professional ice skater perform for us at this media event.
She was spectacular and so were the visuals and colors projected on to the ice rink!
At the rink, you could also rent out one of these snazzy bungalows if you'd like to hang out in style.
The main attraction of Chill is The Igloo. This is where The Ice Kingdom and Glacier Glide is location.
You can go tubing aka sledding on the Glacier Glide. Being in SoCal, this is the closest thing to going sledding with out having to go up north for snow.
It's so much fun in case you can't tell by my face!
After the Glacier Glide, I couldn't wait to step foot into The Ice Kingdom. It's the main thing you don't want to miss when you come to Chill!
Charles Dickens' classic novel comes to life sculpted from over two million pounds of ice. I had to say it again so you get the magnitude of this incredible exhibit. The Ice Kingdom is a 13,000-square foot winter wonderland created by an international team of expert ice carvers and enhanced with stunning sound, lights and colors for a captivating experience unlike any other.
You follow Ebenezer Scrooge through the frozen streets of London to discover the meaning of Christmas.
You are transported into this timeless holiday classic tale.
You start off in Ebenezer Scrooge's bedroom.
The sculpture of the Ghost of Christmas Past is incredibly beautiful.
Here is a closer look at it. My pictures do not do these sculptures justice. You have to head to Chill to see them for yourself.
We go on the journey through Scrooge's past as we continue to walk through the exhibit. This is the Fezziwig annual Christmas Ball seen from A Christmas Carol in case you couldn't tell.
My husband was trying to cheer Scrooge up after he was broken up with.
The most incredible ice sculpture (in my opinion) is the Ghost of Christmas Present.
He came complete with giant ice sculpture fruit, which my husband tried to eat of course.
There you go on the tour to Tiny Tim's house we're we toasted to Mr. Scrooge!
There were so much to see, I just can't include everything. I also couldn't take that many pictures since my phone and camera would freeze if it was out too long. You'll have to visit Chill to see the entire exhibit. It does end with the oh so spooky Spirit of Christmas Yet to Come.
The capture it perfectly in ice form.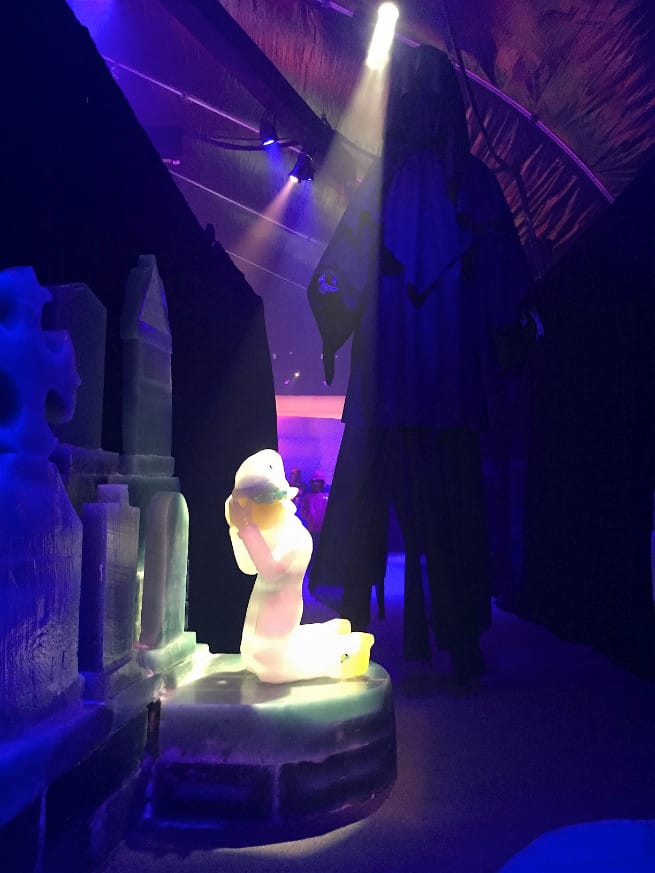 You end with the classic "God Bless Us Everyone" scene in front of the R.M.Ice Queen Mary!
This year you can hop aboard the R.M.Ice Queen Mary for a one-of-a-kind Vodka tasting journey that will jump start your senses. Choose three vodkas to sip or shoot at the 9 degree Ice Bar inside the Ice Kingdom for just $15. Must be 21+.
It's a once in a lifetime thing to experience the 9 degree Ice Bar. What other bar do you know is made of ice and has an ice slide you can slide down if you want to as well? It's double the awesome for this reason.
And last but not least, you can visit Santa at Claus Cottage!
Visit the Claus Cottage for photos with Santa and the patio for story time with Mrs C. Photos inside the cottage start at just $14.
You can also join Santa, Mrs. Clause, the Elves and the entire CHILL family each Saturday during the holiday season as the Queen Mary hosts Breakfast with Santa. The first Breakfast with Santa starts November 28th! This event brings families together to celebrate the holiday season in a fun and welcoming environment. Participants ($19 Kids Under 12, $39 Adults) enjoy a warm breakfast, the opportunity to meet and take pictures with Santa, Mrs. Claus, Ginny Gingerbread, Miss Kandi Kayne, Captain Teddy and the entire CHILL family. The festive holiday breakfast will take place every Saturday from 9AM – 12PM in a Salon on Promendade Deck aboard the Queen Mary. Admission to CHILL sold separately.
This is just a taste of some of the incredible holiday fun you'll have when you visit The Queen Mary Chill Holiday Event!
Be sure to snag your tickets now at queenmary.com/events/chill/ before they are sold out! It's the perfect holiday experience to gift the whole family!
Both young and old will enjoy The Queen Mary Chill!
For more fun Holiday Gift Ideas and Experiences be sure to check out our Holiday Gift Guide!