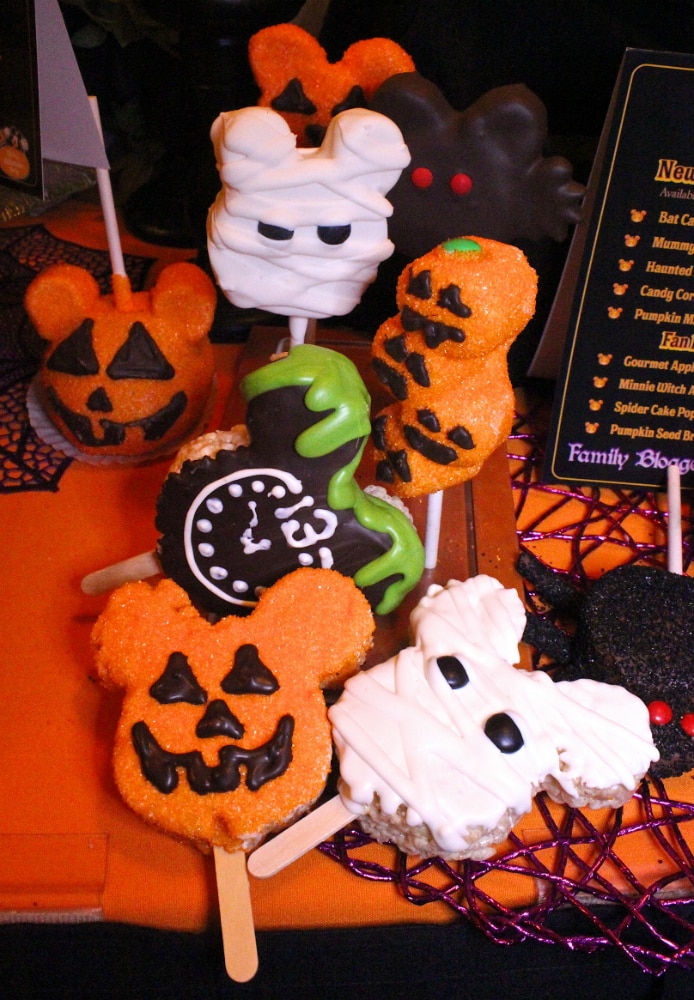 Hey All!
I recently had the once in a lifetime experience to visit the Disneyland Dream Suite while enjoying the festivities of Mickey's Halloween Party!
It was truly spectacular! I wish I could share it with you but I wasn't allowed to take photos unfortunately. This is my proof that I was there below.
After this incredible tour we had the opportunity to learn about and sample the amazing variety of food and new Halloween treats being offered at the resort. They truly were delicious.
Here are just some of my favorites that I couldn't resist sharing:
Mummy Mickey and Haunted Mansion Crispy Treats:
The Mickey Mouse shaped crispy treat is laced with white chocolate to create mummy bandages with candied coated chocolate eye balls peering out from under the bandages.  The Haunted Mansion inspired Mickey Mouse Crispy treat is dipped in Dark Chocolate and decorated with green and white vanilla flavored chocolate to create the classic image of the clock.
Mummy Mickey and Bat Cake Pops:
You get your choice of Vanilla or Red Velvet with the Bat Cake Pops enrobed in dark chocolate with black licorice wheels for wings and a red candied coated chocolate eyes.
Spider Cake Pops:
Chocolate covered pop covered in sweet milk chocolate, covered in black sanding sugar and creepy crawly gummy worm legs. Yum!
You'll have to pick up a Mickey Pumpkin Cake Pop as well!
The Candy Apples during Halloween at Disneyland are spooktacular!
There is of course the Jack Skellington Candy Apple…
The Minnie Witch Apple and the Candy Corn Apple:
They are both Granny smith apples dipped in creamy caramel and topped with delicious dark or milk chocolate.
The Poison Apple Candy Apple is spectacular!
The Mickey Pumpkin Crispy treats and Pumpkin Marshmallow wands are beyond tasty and adorable.
Fluffy Marshmallow is dipped in creamy caramel, coated with white chocolate and covered with orange sanding sugar to create a stack of varying jack o' lantern faces.
Don't forget and Olaf Marshmallow Wand! All these treats mentioned can be found on Main Street in Candy Palace and around the park.

There is an entire line of Maleficent Inspired treats that include candy apples, crispy treats, and cake pops.
The Pumpkin Mickey Cupcake:
This treat is new this season and it's a perfect addition. It can be found at the Jolly Holiday Bakery & Cafe or at Disney's Grand Califrornian Hotel White Water Snacks. It's a Chocolate cupcake with white chocolate mousse frosting and chocolate Mickey Ears. It not only looks amazing, it tastes amazing.
The incredible Ursula Cupcake:
A chocolate cupcake dipped in ganache with white chocolate mousse tentacles topped with chocolate crunchy candy and a chocolate edible Ursula image. It can be found at Pacific Wharf Cafe and Fiddler, Fifer, & Practical Cafe in the Disney California Adventure Park.
The Mickey Ghost Cupcake is also fun!
It's also the season for Pumpkin flavors through out the park. These Pumpkin Beignets at Cafe Orleans in New Orleans square are light and delicious.
The Pumpkin Cheesecake is also a welcomed addition:
Cheesecakes are my favorite being a born and raised New Yorker, especially cheesecake combined with a delicious pumpkin flavor on top of an amazing graham cracker crust. It can be found at the Jolly Holiday Bakery and Cafe and French Market in Disneyland and at the Boardwalk Pizza & Pasta at the Disney California Adventure Park.
The Pumpkin Twist:
A new variety of the twists usually available at Maurice's Treats in Fantasy Faire at Disneyland Park. Pumpkin Twists will only be available for a limited time so be sure to pick one up at Maurice's Treats or at Cozy Cones in the Disney California Adventure Park.
The Mickey Pumpkin cookie is back and can be found around the park!
And last but not least the Tropical Habanero Punch:
Sprite and Tropical Habanero lime flavoring, garnished with cherries and mint. This drink is unique and refreshing. It can be found at the Royal Street Veranda at the Disneyland Park.
As you can see we're a huge fan of the treats at Disneyland. It's very hard to just eat a few or pick a few favorites. We love them all.
We also love to do some shopping while at the park and these are just some of the amazing products you can get at Disneyland and California Adventure.
The Poison Apple Glow Cube found at the Fantasyland Fruit Cart at the Disneyland Park.
They are spectacular and perfect for those Halloween drinks.
The Minnie Halloween Witch Hat! I couldn't resist picking this up for myself this year.
There are new Halloween Mickey Ears, Luminaries, Light Up Pumpkin Buckets, and Mickey Pumpkin Light Wands.
There is also a Maleficent Dragon Sipper which you can transform into a candle holder and some delightful new Popcorn Buckets. One is the Zero Premium Bucket available at the New Orleans Popcorn Cart at Disneyland Park and the Glowing Hat Box Ghost Premium Popcorn Bucket found at the Disneyland and Disney California Adventure Popcorn Cart!
There are just some of the amazing treats and products you can find during Halloween Time at the Disneyland Resort! You'll have to visit the park to discover all the amazing things you can find during Halloween Time!
For more info on Halloween Time or any of these treats visit Disneyland.com!

I was solely invited to attend a media preview of this event at Disneyland. All opinions are my own.