Hey All!
This weekend is Easter and I've had a blasty blast getting my craft and cook on for you so you can have some Brite & Bubbly decor and recipes for your Easter festivities this year. If you're still looking for some last minute things to do for Easter be sure to check out ALL of our fun Easter Projects HERE.
Here is a round up of some of my favorite Easter themed posts from this year! You can see them all above in that collage. I'm starting from the top left!
Bunny Easter Easter Eggs are the BOMB!
Kiss Kiss Wink Wink Easter Eggs rock my world.
Donut Easter Eggs are adorable.
Gold Brush Stroke Easter Eggs for those messed up dyed eggs.
Easter Egg Drink Stirrers will look perfect in those Easter cocktails.
You definitely want to snack on some Easter Egg Surprise Cakes.
Much on some Bunny Food Popcorn with the Easter Bunny.
Dig those Easter Bunnies out of those Cadbury Egg Easter Bunny Cupcakes.
Enjoy a sprinkle and chocolate surprise Easter Day with some Easter Carrot Favors.
Enjoy some Italian Easter Bread and an Egg Bake for your Easter Brunches.
Count down to Easter for these last two days with this Easter Chocolate Carrot Count Down Calendar.
And last but not least dress up your home like this amazing Minted Easter Brunch I put on!
I hope you've Enjoyed all our Easter Fun this year!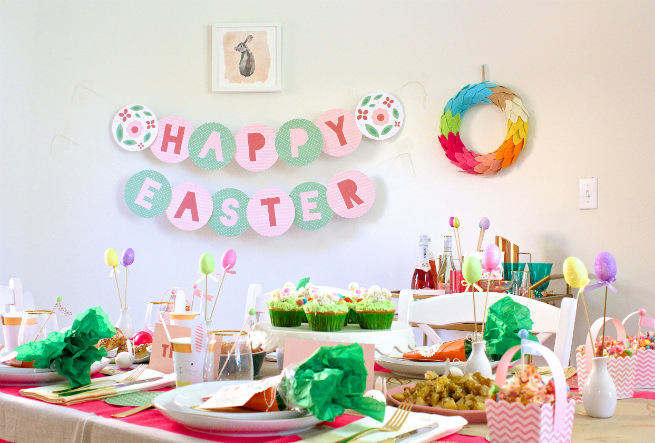 Have a very HAPPY EASTER EASTER Everyone! I can't wait until next year!
And stay tuned for more fun coming your way as we gear up for some Star Wars Celebration DIY's and Recipes and Mother's Day DIY's and Recipes!
The party keeps going and thanks for partying with me!
See on Monday! I'm off to hunt some Easter Eggs with the fam until then! I'll of course still be on my home away from home Instagram and on Snapchat at BriteandBubbly if you want to follow along on my Easter Weekend shenanigans!