This post brought to you by Dreams Resorts & Spas. All opinions are 100% mine.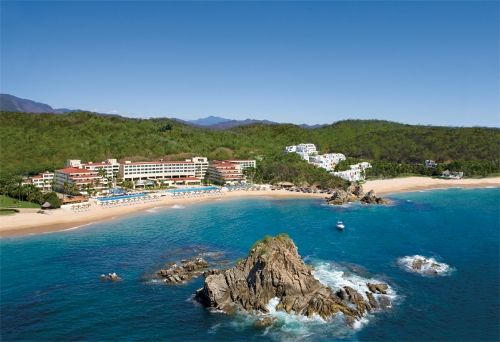 Hey All!
As you all know I'm getting married. We're trying to figure out where to go for our honeymoon and we're looking for a fabulous All-inclusive luxury resort. We recently discovered the award-winning Dreams Resorts & Spas! They offer Unlimited-Luxury® and andambiance for adults and couples with children in tropical beachfront settings throughout Mexico and the Dominican Republic. You can go with your family or go as a couple like us on a honeymoon. They are the perfect for both and they are fantastic as a Family travel resort.
The three resorts we're interested in are Huatulco seen in the picture above.
Huatuloco is set amongst a lush jungle, soaring mountains, dazzling corral reefs and the picturesque Tangolunda Bay. The Dreams Huatulco Resort & Spa is a sanctuary of leisure and adventure for families and couples. You can take to the sea for a surfing, windsurfing or kayaking adventure or enjoy theme nights ranging from a Rock 'n Roll Party on the beach to Casino Night in the Desires Music Lounge.
Palm Beach Punta Cana seen above and is beyond beautiful…
Punta Cana is secluded in a lush tropical paradise. Dreams Punta Cana Resort & Spa features one of the largest free-form swimming pools in the Dominican Republic, stretching from the lobby all the way down to the pristine beach!
And last but not least Los Cabos.
Los Cabos is set along the sparkling Sea of Cortes and is surrounded by eight championship golf courses! Dreams Los Cabos Suites Golf Resort & Spa is a AAA Four Diamond Resort that captures the beauty and elegance of traditional, colonial Mexican design.
These are the three resorts we'd love to go.
We learned that guests can expect fantastic features and amenities at all Dreams Resorts & Spas as part of their Unlimited-Luxury® vacation concept.
Everything included ranges from:
Spacious suites with standout amenities like 24-hour room service and daily restocked mini bars
Average of 5 gourmet a la carte dining options ranging from Mexican cuisine to Italian, French and more – no wristbands or reservations required
Lively bars serving unlimited premium brand beverages
Explorer's Kids Club (ages 3-12) and Core Zone Teens Club (ages 13-17) with supervised activities by specially trained staff at no extra cost
Unlimited Connectivity, a suite of interactive apps allowing guests to call send and receive international calls without incurring roaming charges, create personalized profiles to contact staff directly, receive up-to-date daily activity calendars and more
Dreams Spa by Pevonia offers a la carte treatment options ranging from face and body to massage and salon, and even treatments for teens and kids.
What can guests expect of the Dreams Resorts & Spas you ask?
Classic, wholesome, relaxing, entertaining, beachfront ambiance with great service and entertainment focus
Something for every age
In easy to access/desirable destinations with of flight options year round at affordable prices
Luxury vacation at a great price
Award-winning (ex. AAA Four Diamond)
Who stays at Dreams Resorts & Spas?
Couples and couples with kids
Families
Travelers that appreciate/seek great value for money
They have such amazing resorts and amenities. It's so hard to choose which to stay at. Which one do you think we should stay at?
Help us Choose Our Escape by commenting below with which resort you're most interested in (Huatulco, Palm Beach Punta Cana, or Los Cabos) and tell us wher you think we should go to! Be sure to share which activities you think we should do as well. Honeymoons are so hard to plan!
We need all the help we can get to make a very hard decision like this! Oh first world problems.
I look forward to reading your choices!