Hey All!
I recently had the amazing opportunity to head to Skywalker Ranch in order to participate in a special media day for the spectacular new Lucasfilm Ltd. film Strange Magic! The film opens next Friday, 1/23 and it comes to you from the mind of legendary film maker George Lucas. It has always been my dream to visit this spectacular ranch located 40 minutes north of San Francisco. It is the pastoral home to Lucasfilm's celebrated audio postproduction facility, Skywalker Sound. Anyone who is a fan of Star Wars has dreamed about visiting this amazing place. I literally cried when I found out I was going to the ranch. I would be one step closer to fulfilling my life long dream of meeting George Lucas!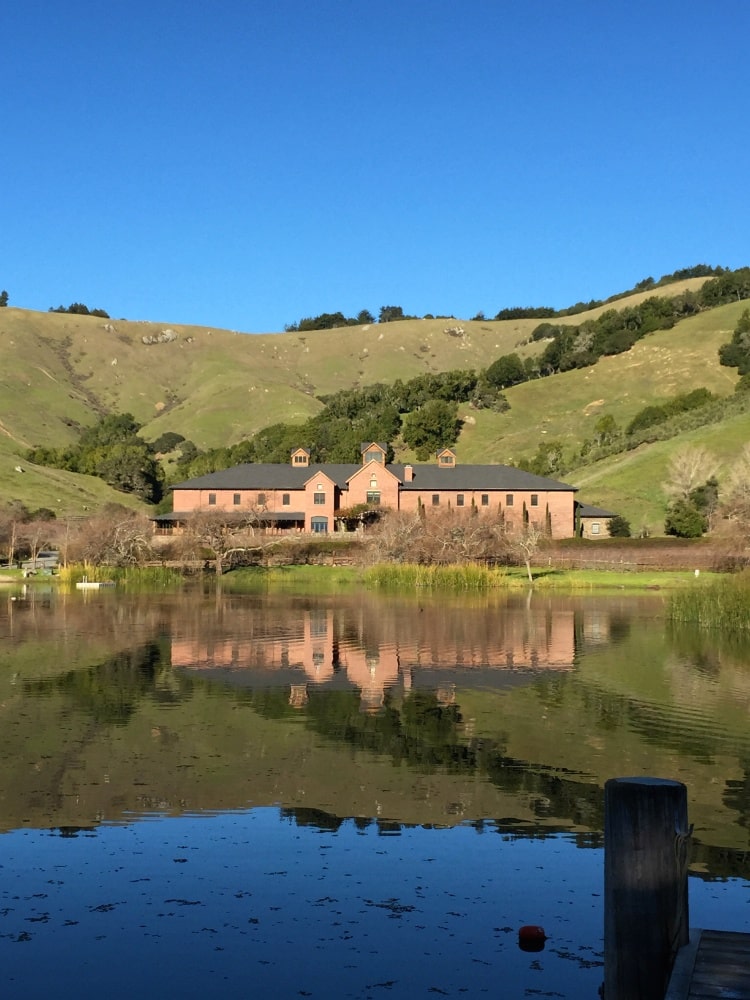 When we first arrived I was honestly not prepared for the beauty I was about to see. It's like I stepped into the forest of Endor mixed with the Hobbits shire.
We started off in the Technical Building for Skywalker Sound.
It was absolutely spectacular. If I hadn't gotten married at Jim Henson Studios last year, this would be the place I would have loved to have been married in as it's beyond gorgeous. Right under that arch would have been the perfect spot!
We entered the building and it was equally gorgeous.
Everything has this very welcoming and home like feeling to it. It's a place that you would love to come to work to.
Everything from the furniture to the natural light from the green house like designs of the ceilings give it this home like feeling.
We then visited the movie theater in the building called the Stag Screening Room.
In this theater were the two statues of Sistros and Braata you may remember from Star Wars: Episode 3 inside of Emperor Palpatine's office. Well if you were a Star Wars fan like I am you would know this.
Skywalker Sound occupies the 153,000-square-foot Technical Building, which features a world-class scoring stage, six mix studios, ADR and Foley stages, 34 editing suites, and a 300-seat screening room. The property also includes the iconic Main House and the beautiful Lake Ewok.
Seriously I could have stayed here forever!
We then headed to the entertainment room for a fabulous Gluten-Free lunch that consisted of an amazing Salmon and..
A spectacular strawberry shortcake for dessert!
This is another entrance to the technical building for Skywalker Sound.
You head up these steps to enter.
This entrance also has such a homey feel as well.
This entrance way leads you to the amazing hallway lined with all the recent and past films that have had their sound design done at Skywalker Sound.
I loved that Marvel's Guardians of the Galaxy was done here and…
I love the message that James Gunn left on the poster for them. It was so cool to see.
I also loved that the Disney's Wreck it Ralph had a Ralph drawn on their poster.
I was also shocked to see they actually have the real Tik-Tok from the classic film Return to Oz!
After we toured the technical building we headed by foot to the Main House.
We stopped by Ewok lake and got some gorgeous pictures of the technical building.
The ground is surrounded with a vineyard of sorts. We learned that Francis Ford Coppola has the grapes for his amazing wine grown here thanks to his good friend George Lucas. They come and pick all the crops for his wine during the winter hence why the vines are empty.
Everywhere you turned was something of beauty.
It was like being in another world.
My pictures honestly don't even do it justice.
As we passed Ewok Lake (seen below) I couldn't help but think if this is the spot that inspired Lucas to create the Ewoks.
It's such a gorgeous lake. I really was looking to see if I saw any Ewoks sitting by the lake or roasting up some Storm Troopers.
The road leading to the main house is also spectacular.
It's one of the best walks I've ever taken I will say that.
Every where you turned was something of beauty.
And I'm happy I was walking in my R2-D2 toms as what else would I wear to the motherland of Star Wars.
The Main House is honestly something that dreams are made of.
This is wear George Lucas houses some amazing Norman Rockwell art, Props from Indiana Jones, Willow, and Star Wars, and this is where he also has his office. There is also a reference library that employees can use and a fabulous library that looks like something the Beast made for Belle in Beauty and the Beast. It's over 50,000 square feet of utter fabulousness.
You can see the round area of the house below? That is actually where George Lucas has his office!
Sadly we we're allowed to take any pictures inside the magnificent house itself, but we were allowed to takes pics in the green house area which you can see below was spectacular and…
We could take pictures of the grounds around the house.
How amazing is this fountain? I forgot to mention George Lucas designed this ranch himself and he made it exactly how he wanted as he wanted a place he could make his movies that was outside of Hollywood.
This is the restaurant connected to the house seen above (which in the winter time houses amazing gingerbread houses made by the chef).
Below you can get a glimpse of the spectacular library inside the main house. LucasFilm was kind enough to send us a picture so we can show you guys since we weren't allowed to take a picture.
At the end of the tour we hit up the Skywalker Ranch store and essentially spent way too much money on almost one of everything in the store! I mean come on, when was I ever going to get the chance to go to Skywalker Ranch again? Never probably!
I can't tell you what a dream come true it was for me to visit Skywalker Ranch! It was beyond amazing and I had an awesome group who we labeled #teamawesome to experience it with. That's team awesome on the steps of the main house.
I am happy to say I did fulfill two dreams that day as I got to go to Skywalker Ranch and I did get to meet George Lucas!!!!! I can't tell you how much of a dream come true this trip has been for me. I can't thank Disney enough for this dream come true opportunity!
Stay tuned for my interview with him next week where we chat all about his new movie Strange Magic!
Check out the trailer for Strange Magic Below:
Don't forget Strange Magic opens next Friday, 1/23 and it comes to you from the mind of legendary film maker George Lucas. I got to see the film during this visit and I can tell you it's a must see!
And again stay tuned for my interviews with George Lucas!
For more info on Strange Magic and Skywalker Ranch visit:
https://www.facebook.com/StrangeMagicMovie
https://twitter.com/StrangeMagic  (#StrangeMagic)
http://instagram.com/StrangeMagicMovie
http://lucasfilm.com/skywalker-ranch-marin

I was solely invited and provided transportation and accommodations to this media day by Disney. All Opinions are my own.