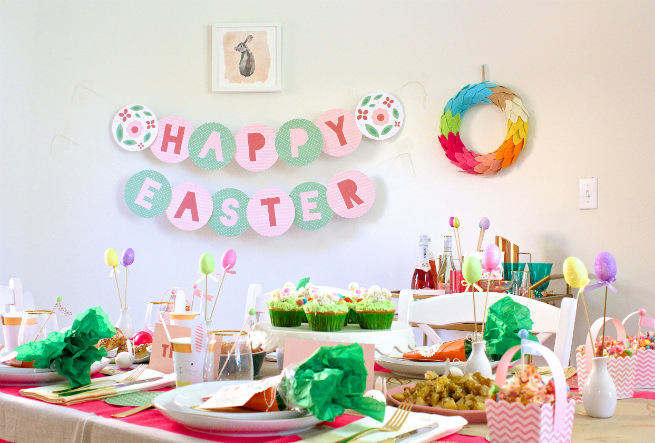 Hey All!
I'm so excited to finally share my Easter Brunch decor and menu with you today! Since Easter is a holiday I love to decorate for, I partnered with the amazing folks at Minted.com to have the most fabulous Easter Brunch for my family & friends possible. Minted has some amazing customizable party and home decor that are perfect for Easter or any holiday. Their fun and vibrant decor would be fantastic for Mother's Day as well which is quickly approaching. I can go on and on about how much I love their products, But for now, I'm going to share how you too can put on the perfect Easter brunch with the help of Minted!
First you need the perfect Easter Brunch Invitations. I used these Patterned Easter Holiday Party Invitations in the Emerald color.
I thought they had the perfect look and feel for the them of my brunch. I photo shopped out our address for security reasons of course. But you can add all your party information to the invitation. It also has the cutest colorful font.
The decor I customized for the brunch included this amazing Wild Rabbit framed Print.
It comes in a number of sizes and YES it comes framed if you'd like it framed. They make everything so simple for you. I love the way it looks on our wall. I'll probably keep it there all year long.
The banner and party decor line I chose is called the Happy Day Party Decor line. I thought the fun pink and green colors screamed Easter and would work perfectly for our brunch.
You can customize the banner to say what ever message you'd like. I chose to keep it simple and just say "Happy Easter" with our banner.
I love the font and patterned prints of this banner. I mean how cute are those flower designs?! Too cute!
For the table decor I got this fabulous 120″ Leaves Gold Foil-Pressed Table Runner. I'm obsessed with it as I love gold foil-pressing with a passion.
The gold leaf detail really dresses up the table. It's absolutely perfect!
The table is sprinkled with this large confetti from the Happy Day Party Decor line.
How perfect does it look underneath the gold flatware?! It's a perfect fit for our Easter Brunch and there is no way I was not going to have confetti on our table.
With the food lined up on the table runner, it completes the entire look.
The Happy Day Party Decor line also includes these fun "Treats" table cards that you can line up along the table for all the tasty treats you'll be serving for Easter.
They are the perfect way to showcase your treats!
They look perfect with our Bunny Cupcakes.
The table looks fantastic with all this decor, but hold on there is more.
To match the "Treats" cards we also got some "Sips" cards for our bar cart (which are also from the Happy Day Party Decor line). You have to let people know where they can get their Mimosas during Easter Brunch of course!
For each table setting we used those Easter Carrot Party favors I showed you how to make recently. Missed that post? You can learn how to make them HERE to hold your place cards up.
The place cards are held onto the Easter Carrot Favors with some matching stickers.
All of these adorable items are also from the Happy Day Party Decor line.
This line literally has everything you need for your brunches or parties including these fun sticker flags that you simply stick onto some cute and colorful sticks. They can easily be drink stirrers for you Easter sips or they can be used for those Easter cupcakes or cakes.
Under the Easter Carrot Favor Bag Place Cards are the fantastic Floral Canopy Menus. You can also get these in a foil pressed version.
The menus will showcase all the delicious dishes we will be serving family style.
We'll also have these Easter Bunny cups for the kids…
And these cute Easter Bunny surprise balls. I'm all about the parting gifts!
We also have to have some Easter Candy for people to pick from after they eat their main dishes.
The main dishes include this Egg bake (which you can get the recipe for HERE). I chose to do an Egg Bake this year instead of our normal soft boiled eggs. It's easier to clean up and it tastes amazing.
We'll also have our famous breakfast potatoes…
Some colorful Italian Easter Bread (which you can find the recipe for HERE)…
Some Bunny Cupcakes, French Toasts Sticks, Cinnamon Buns, and these Bunny Food Mini Easter baskets.
Everyone will love all the decor and all the tasty treats they can take home in these adorable Mini Easter Baskets.
I can't wait to enjoy our Easter Brunch with our friends and family this Easter Sunday. This post was my test run as I always do a test run with my decor and recipes before I serve it to my guests. I like to plan and I always recommend everyone do a test run before they have their events so that they can perfect the look and food for the event.
I hope you enjoy these colorful Easter Brunch Decor ideas and recipes as much as we do!
Thanks so much to Minted for making our amazing Easter Brunch possible! Their fabulous party decor will truly make this our most spectacular Easter Brunch ever.
This post is brought to you in collaboration with the fabulous folks at Minted. All opinions are my own.
Thanks for supporting the brands that make this blog possible.
Check out the rest of my easy and colorful Easter DIY's, Recipes, and Crafts HERE!