This post brought to you by Vectra flea & tick control. All opinions are 100% mine.
Hey All!
We all try to protect the ones we love as best as we can and we can't forget to protect our pets. Flea and tick season is almost upon us and we need to get ready with the best protection. Pet lovers like me will do anything to protect our furry dog babies and one product that can help is Vectra 3D. It's a long lasting, broad spectrum parasite, flea and tick control for dogs. For your small dog or puppy, use Vectra for Dogs and Puppies. Or for your cat, use Vectra for Cats and Kittens. I know I need to protect our Mr. Pink and chico as we live in grassy areas and I don't want them to get anything. I know they will be thanking me for it all summer long.
Especially during the summer, it's always possible for fleas, ticks and other dangerous vectors to infect your dog. It only takes one bite to potentially spread disease. That's why you need the fast-acting, long-lasting, broad-spectrum protection of Vectra 3D®. It's Fast-Acting and Kills through contact! Those pesky parasites don't have to bite your pets to die from Vectra. It begins reducing flea feeding in 5 minutes and kills fleas in 6 hours. It works very quickly!
It repels and kills fleas, ticks, mosquitoes, biting and sand flies, lice and mites (excluding mange mites). It's long-Lasting and remains effective after bathing and swimming. It also protects for 1 month.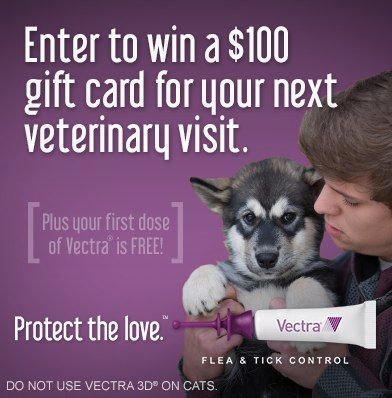 It's available at your local vet's office and you can enter Vectra's Protect the love Facebook Sweepstakes for a chance to win a $100 gift card to use on your next veterinarian visit. A gift card will be rewarded each week for the duration of the Sweepstakes. Each entrant to the Protect the love Sweepstakes can also claim a free dose of Vectra flea & tick control.
Users can print out a coupon for a free dose to redeem at a Vectra veterinarian near them. All readers need to do is enter the sweepstakes, then visit FirstDoseFree.com and fill out the form.
Like Vectra on Facebook and follow @VectraPet on Twitter for more info on Vectra!
***Protect the love™ is the official social identity of Vectra flea & tick control. Vectra is a product of Ceva Animal Health, LLC and has multiple formulas for dogs, cats, puppies and kittens. *DO NOT USE VECTRA 3D ON CATS***