Hey All!
It's been some time since I shared about our colorful muppet rainbow wedding here on the blog, but today I'm sharing because I finally got some Metal Prints and Photo books made with our wedding photos. It's all thanks to the amazing folks over at Mixbook.com. I'm was super excited to partner with them on this fun collaboration to finally capture and save some of favorite wedding photos. I know! I'm such a bad bride. It's taken my this long to actually do something with our wedding photos. I'm happy I waited, as I'm loving how our photos came out in these products! By showing you what we made, I'm going to give you a super sneak peek at our private wedding photos!
Also on a side note, these would make great gifts for Mother's Day or Father's Day!
For our Photo Book, I chose this "Colorful Everyday" design by Lines Across. It's an 8.5 x 8.5 inch classic square matte hardcover book with dust jacket.
It figured it was a perfect fit for our colorful wedding. I customized it to turn it into a wedding photo book, as opposed to a family vacation photo book. You can customize all the awesome Photo Book designs on Mixbook to fit your special occasion. Getting this book was an excuse to pull out all my wedding accessories and sit down and relive our wedding day. Yes, I'm one of those crazy brides that likes to put on my wedding shoes or veil every so often to reminisce.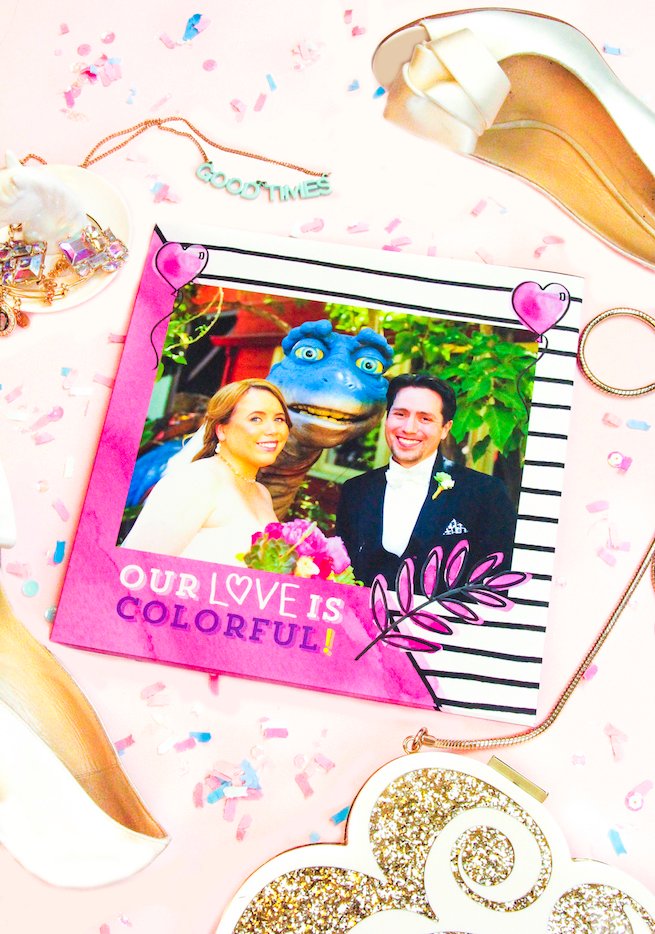 I digress… I put in so many of our fun wedding photos into this book. I included photos from the beginning of our wedding to the end of our special day.
I love how vivid and colorful each page of the Photo Book is.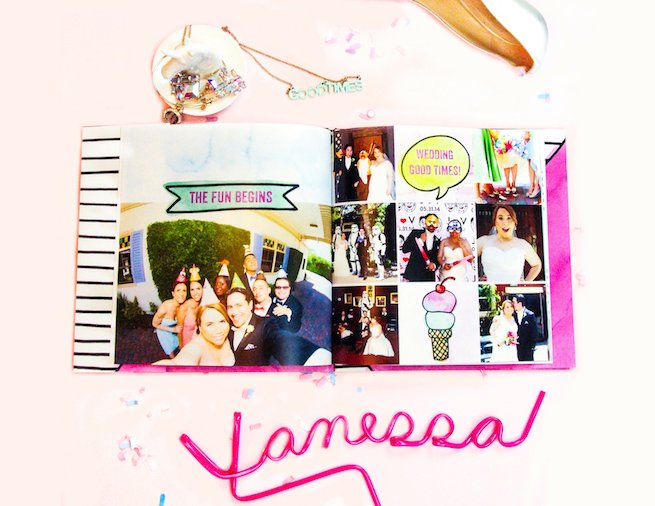 It really does capture how magical our wedding was. I know every bride says that, but when you get married at Jim Henson studios, the place where so much magic and creativity came to life, I think I can safely say I had a magical wedding!
I had never printed out any photos from our honeymoon either, so I was super excited to include them in this Photo Book as well. We went to Disney World for our honeymoon, because we're big nerds.
We really are better together! I also love that this book has a unicorn on the back cover. What's more magical than a cute unicorn? Nothing folks!
As I mentioned before, we also got some awesome Metal Prints made for our photos.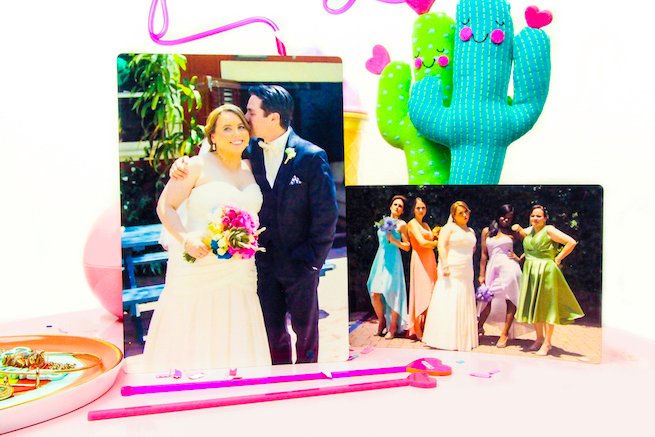 I made one of me and hubby sharing a special moment right after we said our vows…
And another of me and my bridesmaids aka best friends forever doing our best impression of the girls from the movie Bridesmaids.
How funny is that? Love it! They came out great and they fit perfectly on my little pink vanity table.
They are super thin and sturdy, as you can see from the side profile of the metal prints.
I'm thrilled with how everything came out and I'm so thankful to Mixbook for helping me to finally capture my wedding in the most perfect and colorful way.
If you're looking to turn your photos into something creative to preserve your favorite memories check out Mixbook.com.
Just for my awesome readers Mixbook is giving you 40% off Sitewide! Use promo code BUB40! It Expires May 11th Midnight PST, so snag something awesome with your photos while you can!
This post was sponsored by Mixbook.com!
Thanks for supporting the amazing brands that keep this Brite & Bubbly party going!