This shop has been compensated by Collective Bias, Inc. and its advertiser. All opinions are mine alone. #GoldfishGameTime #CollectiveBias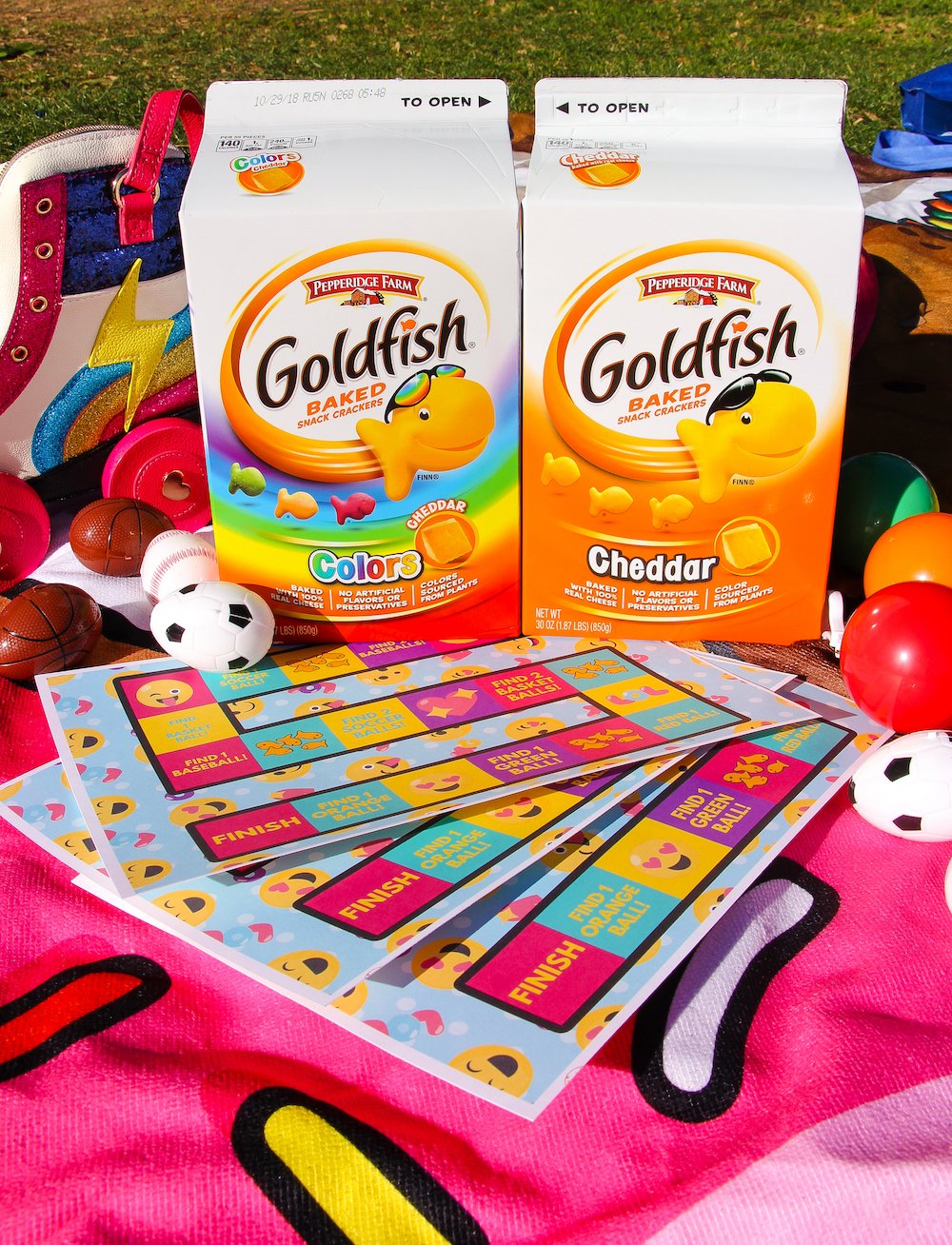 Click on this super cute image above to shop for your own yummy Goldfish® Crackers!
Hey All!
I don't know about you, but I'm so happy spring time is almost here! With spring comes warmer weather and more time to spend having fun outdoors. Since I live in sunny California, I'm taking full advantage of these bright sunny days. We've been having some amazing weather and I decided to create a fun outdoor game for the kids using Pepperidge Farm® Goldfish® crackers. It's almost like an easter egg hunt, but with a lot more running and dashing to get all the Goldfish® cracker filled balls first.
I got the Pepperidge Farm® Goldfish® crackers Cheddar 30 oz. carton…
And Pepperidge Farm® Goldfish® crackers Colors 30 oz. carton at Walmart to put this fun game together.
Goldfish are available in 30 oz. cartons at Walmart on Rollback (in store only) for $6.46.
Since I'm all about the rainbow colors, I of course had to get the Goldfish crackers Colors.
I personally love that they are baked with real cheese and are a feel-good snack that tastes great!
To make this fun outdoor kids game you'll need:
This

Free Printable Game Map

!

White Cardstock.

Printer.

Scissors.

Round Red, Green, and Orange Ball Containers.

Soccer, Basketball, and Baseball Egg Containers. (I also got these at Walmart!)

Pepperidge Farm

®

Goldfish

® crackers Cheddar 30 oz. carton and a

Pepperidge Farm®

Goldfish®

crackers Colors 30 oz. carton.

First you print out the map onto white cardstock for your kids. You can print out one for each child. You can cut off the logo portion for our site with your scissors.
You then fill your Soccer, Basketball, and Baseball Egg Containers with your Goldfish crackers.
You will also fill your red, green, and orange ball containers with Goldfish crackers as well.
Goldfish crackers are the perfect snack to fill the containers with. They are also a fun surprise and prize for the kids to enjoy once they finish the game. I digress…
You then go out into your backyard or head out to your local park and hide the Goldfish cracker containers in the grass or bushes. You can place some markers with some streamers or with flags to mark the starting line. This will also help the kids know the area to stay inside to find each Goldfish cracker filled prize.
The kids then use the map to figure out how many Goldfish cracker filled containers they have to be the first to find in order to win the game.
The first person to find all the Goldfish cracker filled containers and brings them back to the starting point wins. They can immediately pop open the containers and enjoy their Goldfish crackers.
Make sure you have some water on hand for the kids in case they get thirsty after running around searching for the Goldfish crackers.
After the game you can sit out in the sun with the kids and enjoy your Goldfish crackers.
They are the perfect snack to enjoy some outdoor springtime fun with and to have a fun in the sun picnic with. They are a win-win for parents and kids! They are made with smiles, to leave you with a smile!
If you get these ball containers with the hooks attached to them, you can easily hood the balls onto a bag or backpack.
Your kids can take their Goldfish crackers wherever they go! How fun is that? You can play this game anywhere at anytime, because it's so easily portable.
I hope you and your kids enjoy this fun spring time outdoor game as much and me and my family do!
Check out your local Walmart and snag yourself some Pepperidge Farm® Goldfish® crackers asap! Have yourself some #GoldfishGameTime with your kids this spring!
You can also find more fun info HERE!
Thanks for supporting the amazing brands like this one who keep this Brite & Bubbly party going!