This post was sponsored by FLAVORx. All opinions are my own.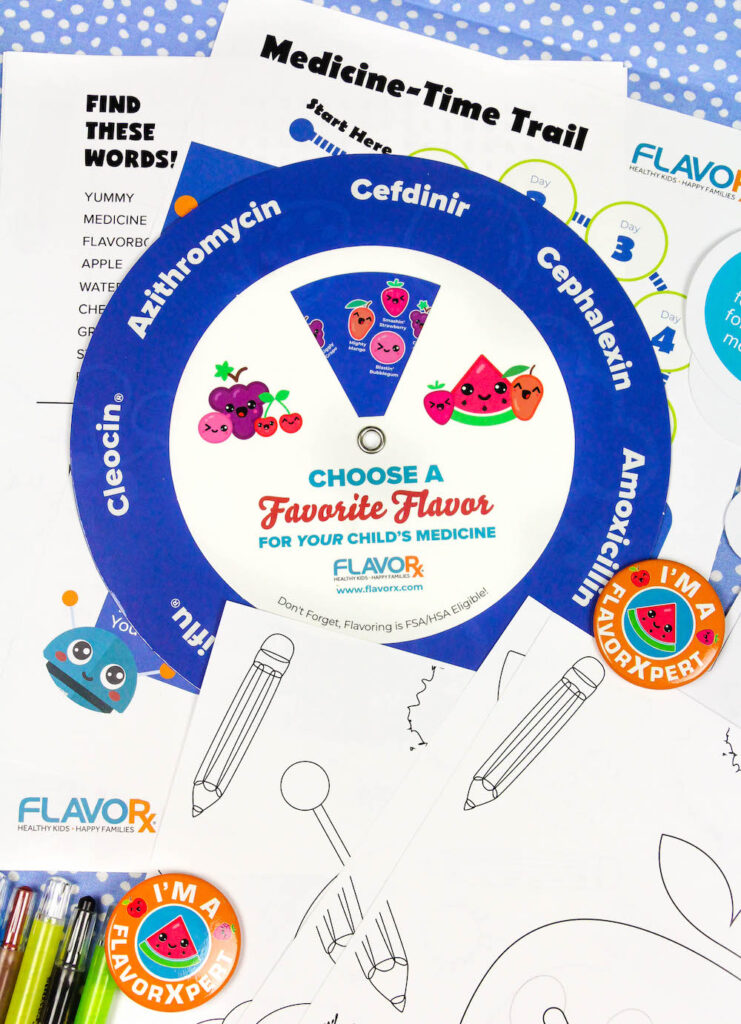 Hey All!
I'm sure parents have been living at the pharmacy this year with everything going on. My son has been going to in-person preschool for the past few months and it's been so stressful. I know it is only a matter of time before he comes home with a nasty bug or infection and he's going to need a prescription.  Trust me, I am not looking forward to it. If you are like me and have a kid that has a hard time taking medicine, then you'll definitely want to ask for FLAVORx when filling your child's prescriptions. It's works wonders for getting kids to take their medicine!
FLAVORx allows parents and kids to choose the way the way they want their medicine to taste. You can get it at your local CVS Pharmacy when you fill a prescription for your child.  CVS Pharmacy is our pharmacy of a choice since there is a variety of stores located where we live. We live so close to their pharmacies, so it's very convenient and they offer FLAVORx!
The folks at FLAVORx were kind enough to send us a little package to help us at the pharmacy the next time we have to fill a prescription for my son.
It came with this fun flavor spinner to help us choose his favorite flavor. They also sent some fun coloring pages and some cute stickers and pins since they know how thankful I am this product is around. It's really a god send.
He's having so much fun with this spinner. I know we'll be taking it with us to CVS any time he has to choose a flavor for his medicine. He sometimes has trouble picking a flavor, so this should be very helpful with that.
If you've never heard of FLAVORx, as I mentioned before, it makes taking medicine not so bad for kids since kids get to choose the flavor of their medicine. This is so helpful for moms with picky taste buds. FLAVORx offers flavors to fit even the pickiest kid's taste buds, from popular favorites like bubblegum, strawberry and grape, to more unique options like mango and sour apple. My son loves to get the grape flavor whenever he needs a liquid prescription.
If his medicine is not flavored, this is what I have to deal with. Hand over his mouth, digging his face into pillows, and screaming no.
When a child has trouble taking liquid medicine, it can be a very stressful experience especially when you're a new mom. It's really difficult and it just leads to tears, tantrums, and longer illness since the medicine isn't taken properly. No parent wants that! These medicine-time struggles also put stress on moms and dads who are just trying to give their children the medicine they need that will make them feel better. FLAVORx is so simple to get and is such a big help at preventing that.
When you head to CVS to fill your child's prescription, you can let them know you want the prescription flavored with FLAVORx. The pharmacy will hand you and your child a sheet with all the flavors they offer. It will looks something like what you see below.
You and your child will check off the flavor your child wants and then hand the sheet back to the pharmacy. They will make the medicine with the flavor of your choice. It's that simple.
Taste is such a huge factor when it comes to getting kids to swallow their medicine. By letting kids pick their favorite flavor and making medicine more palatable, the FLAVORx service empowers children to take ownership of their wellness, makes medicine-time fun, and reduces stress levels for parents. I also love that it's sugar-free, gluten-free, dye-free, and casein-free. So you don't have to worry about if you're adding something to your child's medicines that you may not want in their medicine.
For me and my son we don't go without it whenever we have to have a liquid prescription filled for him. He's 100% happier taking his medicine with FLAVORx and that's all I ever want. I want a happy and healthy child!
Thanks to FLAVORx, we definitely have a happy child when it's time to take medicine! If you need to have your child's prescription filled, I highly recommend you check out FLAVORx!
Check out more info on FLAVORx on their website www.bettermedicinetime.com.
Thanks so much again to FLAVORx for sponsoring this post and thanks to you for supporting the amazing brands like this one who keep this Brite & Bubbly party going!