Hey All!
Going to Disneyland during the holidays is always a magical experience for our family.  It all starts with Halloween, which just so happens to be my favorite holiday. Every year Disneyland transforms itself for Halloween Time which runs until October, 31st. It's a great time filled with all kinds of spooky adventures for the whole family. The big Mickey Jack-o-lantern in Main Street is just one example of why Halloween at the Disneyland Resort is amazing. Who wouldn't want to see the Mickey Jack-o-lantern in person?
The parks decor is so creative and festive. Everything from the entrance to main street is covered in adorable fall colors and pumpkins. The pumpkins on the Disneyland entrance are also shaped like your favorite Disney Characters like Minnie, Mickey, Pluto, Goofy and Donald.
Through out the park are fun Halloween themed activities for the whole family. One of my favorites is the Halloween Carnival at Big Thunder Ranch Jamboree!
There is so much to do at the Halloween Carnival at Big Thunder Ranch Jamboree!  There are Halloween Crafts, an all new Halloween Magic Show, Halloween Carnival games you kids will enjoy, You can find fun Halloween Treats (Like Candy Corn Cotton Candy) that you can't find in other parts of the park, Halloween songs sung on the stage by The Cadaver Dans ghoul quartet, and more!
My favorite thing to see is the Pumpkin Carvers as they truly sprinkle some Disney Magic onto the Pumpkins they carve and create. Here is just a sample of some of the fabulous pumpkins below.
I absolutely love the Maleficent and Frozen Pumpkins. Your kids will too! The Halloween Carnival at Big Thunder Ranch Jamboree is a must do for any family for Halloween. If you want to do some trick-or-treating and enjoy a unique Halloween Party experience you'll have to get tickets to Mickey's Halloween Party!
This fun filled event is  held 14 nights during Halloween time at Disneyland.  It's a special ticketed event which is an additional fee, but it's well worth it in my opinion. It allows you to have a trick-or-treat experience that you couldn't find any place else! Getting the opportunity to wear your costumes and trick-or-treat at Disneyland Park is priceless to me.
The Festivities of Mickey's Halloween Party include:
Monsters U Dance Party at Tomorrowland Terrace featuring Mike & Sulley in a spirited Monster Scare-Off.
Mickey's Costume Party Cavalcade, a Halloween parade presented for Party Guests.
Special trick-or-treat stations with candy and healthy options as well.
Disney Villains encounters as they prowl the grounds. Photo ops with popular Disney and Pixar Pals, and Disney Villains. Dance parties with lively music, creepy crafts and activities for the whole family, and the chance to eat, drink and be (not so) scary throughout the park.
Access to nearly all attractions, including all the Halloween-themed attractions such as Space Mountain Ghost Galaxy…
And my favorite the Haunted Mansion Holiday.
There is also exclusive viewing for Mickey's Halloween Party Guests of the Halloween Screams, a boo-tiful fireworks spectacular.
Check out some video of this spectacular fire works show in action below:
This is just a taste of the fireworks. You'll have to come to Mickey's Halloween Party to see the entire show. And lots more excitement for little boys and ghouls of all ages!
For those who celebrate Dia de los Muertos (Day of the Dead) along with Halloween there is a fantastic Dia de los Muertos Display located next to Rancho del Zocalo Restaurant in Fronteirland. There is a a traditional skeleton display which includes bright colored papel picados and ofrendas.
It's a beautiful way to celebrate the Hispanic holiday. There is also face painting and live music at times in this area as well. It's great to have this at the park especially for me and my family since we are Hispanic and celebrate this.
And last but not least I have to mention the Halloween Treats and Products that are only sold during this time. They are spectacular, so stay tuned for a complete post devoted solely to them.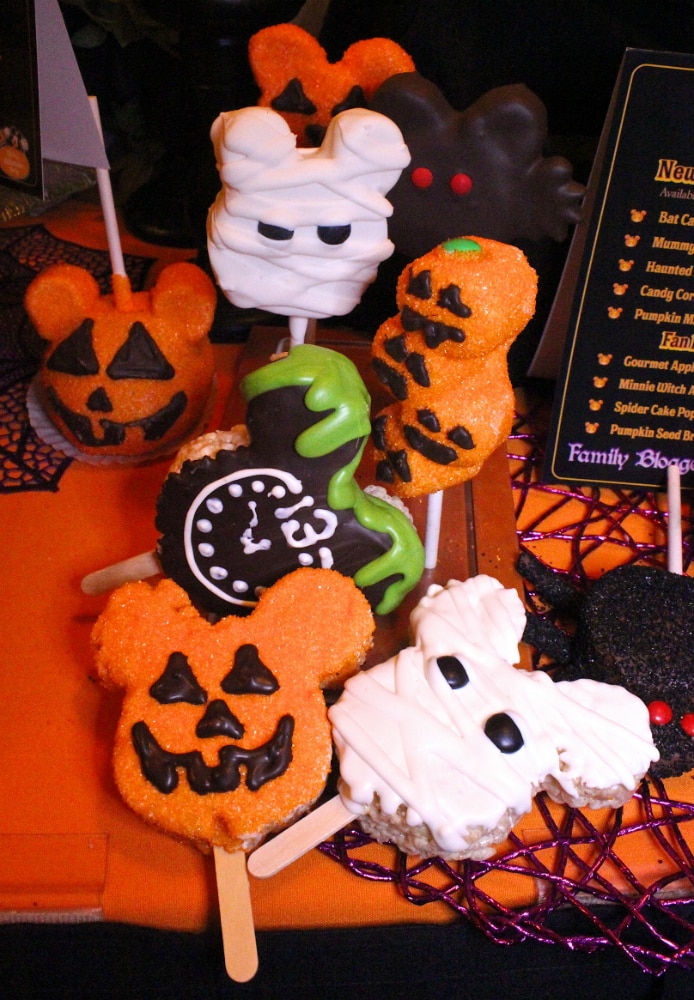 After seeing all the magic in store at Disneyland for Halloween, Who wouldn't want to spend Halloween there?
For more info and to purchase tickets to Mickey's Halloween party visit Disneyland.com!

I was solely invited to attend a media preview of this event at Disneyland. All opinions are my own.