Hey All!
I'm so thrilled to share the amazing Daniel Tiger themed ballon installation and decorations I partnered with Anagram Balloons to create for our recent Daniel Tiger Party! They were so kind to give us all the Daniel Tiger licensed balloons and decorative foil balloons for the party. They have all the best licenses and foil balloons! If you go to Party City and see their balloon wall, they are probably all Anagram balloons! I've used and featured their balloons here numerous times here on the blog and I'm thrilled for the opportunity to finally work with them!
Let me start with this 8-bit minecraft inspired Daniel Tiger installation we made using some Gold UltraShape™ Cubez™ balloons, a red heart balloon, Mini Gold air fill star balloons and some rainbow Ombre Orbz® XL™ balloons.
This was so much fun to make.
The Gold UltraShape™ Cubez™ balloons make the face. The heart makes the nose and the Orbz make the ears.
We just printed some eyes and a mouth and stuck them on the balloon with some double sided tape.
Super simple to make and so cute for a party!
Next we have to talk about the Daniel Tiger Air Walker Balloons! We had these over four feet tall balloons in various corners of the party.
They were the perfect decoration to great guests and the kids could play with them and take pics with them!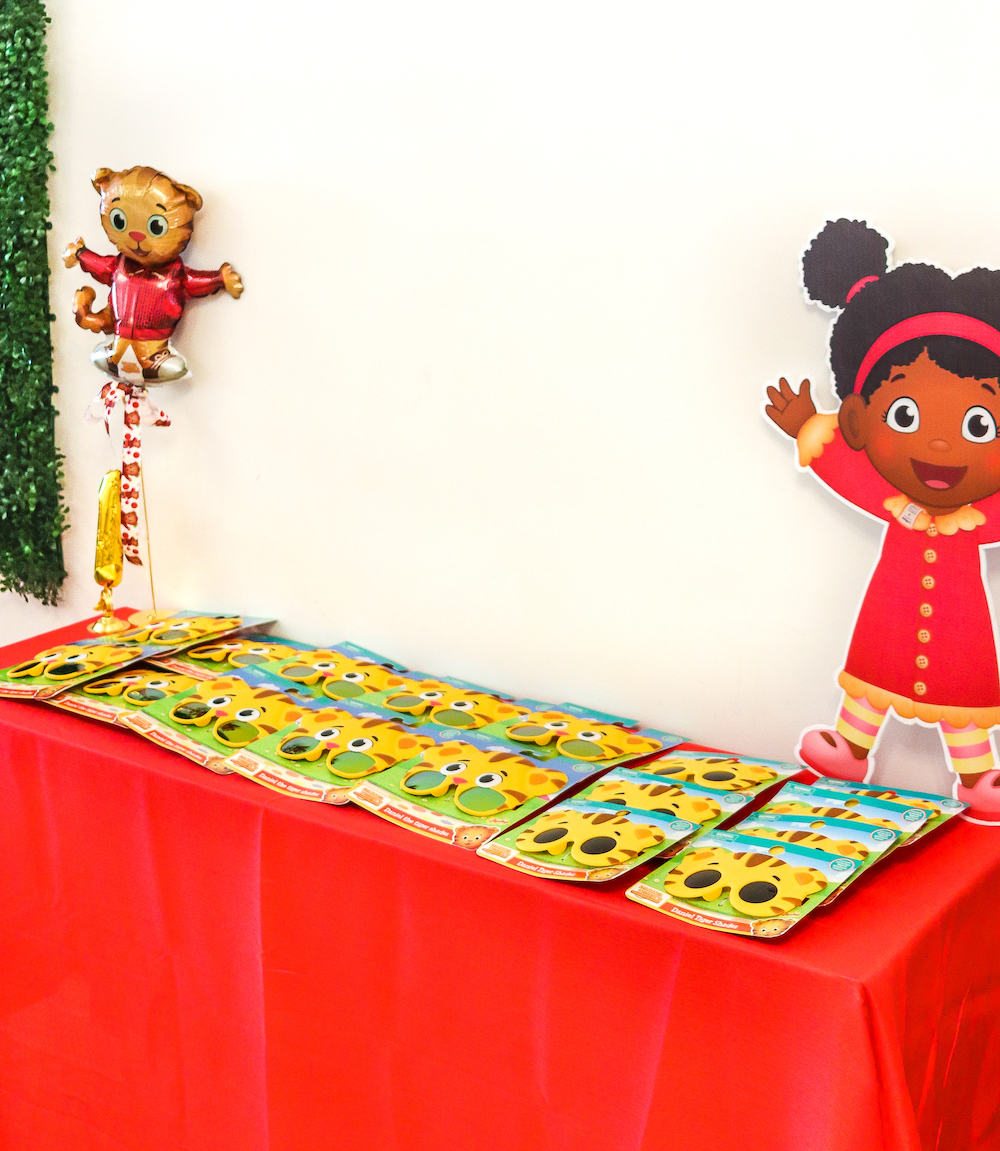 We also had these mini shape air fill Daniel Tiger and gold number 1 balloons on various tables with in the party.
We had some on the guestbook sign in table…
And on the main seating area.
We also included these in the table runner balloons garland I created.
We used these balloons, some latex balloons, and some Gold Orbz® XL™ balloons to make that table garland.
How fun is this folks! It was super easy to make and the Orbz at each end make it all the more adorable.
The scattered Mini Daniel Tigers make it all the more cuter!
We also had Daniel Tiger SuperShape™ Balloons and large gold number 1 balloons flying around the venue.
Lastly I partnered with Balloon and Paper to make this ballon garland to go over the cake table.
We used a Daniel Tiger Air Walker Balloon…
Some of these awesome Ombre colored Orbz® XL™ balloons…
And the mini shape air fill Daniel Tiger and gold number 1 balloons to make this fun garland!
The balloons were such a huge hit with our party guests! I can't thank Anagram enough for partnering with us to bring this party to life with these amazing decorations!
We couldn't have done it with out them!
Be sure to check out Anagram's Website HERE to check out all the amazing Balloons they have to offer!
Thanks for supporting amazing brands like this one who help keep this Brite & Bubbly party going!

No compensation was received for this post. We solely received product for the party.