Hey All!
I'm so thrilled to finally share all the details from our Daniel Tiger 1st Birthday Party event we threw last week to celebrate our little man turning one. We turned it into a big event that was part party and part charity event. Since our little man has so much already, we decided that instead of gifts we would donate diapers, books or toys to kids in need in leu of gifts.  It's always nice to be able to give back especially during these rough times. This amazing event couldn't have been pulled off with out our amazing partners from Anagram Balloons, Party City, Sun-Staches®, Qualatex, and Balloon and Paper. They were all kind enough to donate the balloons, party decor, food/drink stations, and party favors for our guests to enjoy! We worked with Balloon and Paper to come up with the design and theme of the balloons for the party. I'll have a full vendor list at the end of this post, so stick around to the end! This one is going to be a long one folks!
We wanted everything to be tigertastic for our little man and boy did we pull it off in a big way. He only turns one once, so we wanted to make sure we did his first birthday right!
We filled our venue (Violet Cactus Venue in Burbank, CA) with all thing Daniel Tiger!
Our little man had the best time!
He was so happy and thrilled to finally get some yummy cake to munch on.
We had amazing Daniel Tiger Foil balloons from Anagram Balloons every where you can turn!
The biggest balloon installation was around the cake and desserts table! It was made with primarily with latex balloons from Qualatex and the Anagram Balloons Ombre Orbz® Balloons and Mini Daniel Tiger Air Fill Balloons and Mini Gold Number 1 balloons!
Balloon and Paper came and made this garland over the dessert table and the number 1 balloon mosaic to go next to the dessert table.
We had small bites from our favorite Cuban Restaurant Portos and we kept it all hot in this heating tray from Party City.
We also got the serve ware, rainbow utensils, and plates and napkins from Party City!
We set up this awesome drink station with this drink dispensers from Party City! We filled them with fruit, ice, water, and fruit punch.
The venue had this great wooden platform to place the jugs on that worked perfectly.
The adults can use the cups and the kids can use the Daniel Tiger trolley sipper cups we had at the station.
We got the Daniel Tiger cups, red cups and napkins from Party City as well.
I love how the drink station turned out!
We had so many adorable sweets and a Daniel Tiger main cake for all to enjoy and a mini blue Tigey smash cake for our bubbly baby to enjoy his first sugar with.
These cakes were sooooo adorable!
The Tigey was by far my favorite!
Here's a look at all the treats from the dessert table!
I loved the Logan Daniel Tiger stand up cookies!
I made these chocolate covered oreos myself with a plastic oreo mold I got on Amazon and some Wilton Orange, Red, and Yellow Chocolate Candy Melts!
They were super simple to make and completed the dessert table perfectly!
We had amazing Daniel Tiger favors from Sun-Stashes!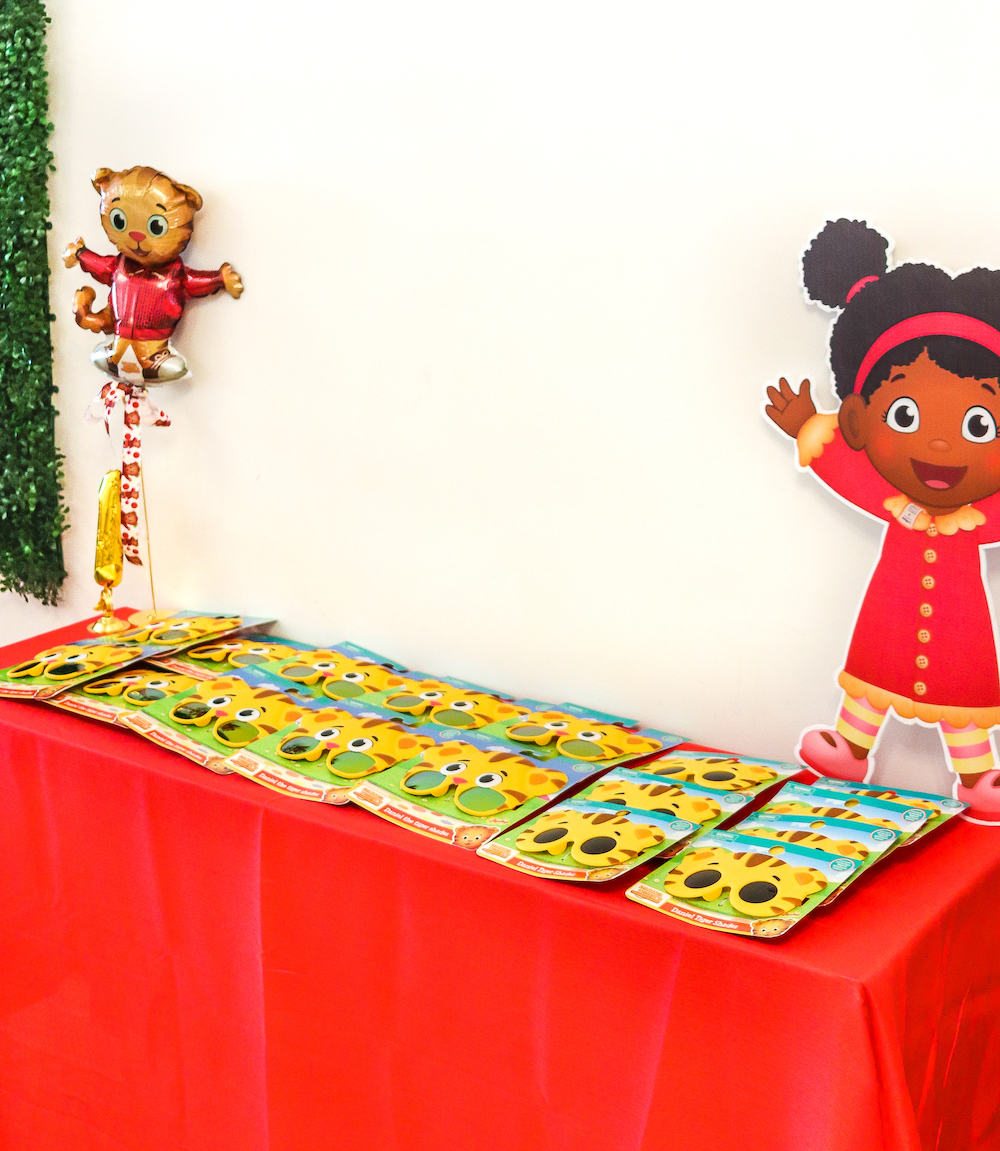 As you can see they were a big hit with the kids!
We loved wearing them as well as a Tiger Family!
We love our Sun-Staches!
We had amazing foil Daniel Tiger balloons all around the party from Anagram Balloons!
We also had gold 1 Balloons both mini and large all around the party!
I made a table balloon garland using Qualatex balloons and Anagram Balloons.
The table garland had little Daniel Tigers popping out around the garland. It's so cute!
We also had little Daniel Tigers and Number 1's on the Balloon Garland over the Cake and Desserts table!
Every where you turned there were some balloon decorations to greet our guests!
It truly made the venue space all the more colorful and fun!
The balloons were a huge hit at our party, especially these amazing over 4 foot tall Air Walker balloons!
When it came time for him to smash his cake and blow out his candle, he was ready to get his sweet on!
We blew out the candle of course, cause he can't do that quite yet!
At first he was so polite with his cake! Once we stuck his hands in the cake, he was all about it!
He started devouring that cake! He's got a sweet tooth just like his mama!
We had such a blast at this party and I hope you enjoyed this personal look at such an amazing day for us!
As you can see we truly had the best day ever!
We couldn't have done it with out all the helpers and amazing brands that partnered with us to make this fabulous party possible!
Check out the full vendor and products list below:
Venue: Violet Cactus Venue
Photography: liana melikyan photography
Cakes, Rice Krispies Pops, Cookies: Sam Samm Custom Cakes and Desserts
Chocolate Covered Oreos: By Me! Brite & Bubbly
Daniel Tiger Plates, Cups and Party Ware and Orange Plates and Red Cups: Amazon
Drink Station: Party City
Food Station: Party City
Party Favor Daniel Tiger Sunglasses: Sun-Staches
Cake Table Balloon Garland and Number 1 Balloon Mosaic: Balloon and Paper
Table Balloon Garland: By Me! Brite & Bubbly
All Daniel Tiger and Foil Balloons: Anagram Balloons
All Latex Balloons: Qualatex Balloons
Logan's Neighborhood Sign and Character Cutouts: Mimi Dezign
Daniel Tiger Family Shirts: Etsy Shop No Longer Around But found THESE similar shirts!
Daniel Tiger Baby Party Hat: Party City
#1 Birthday Bib: Party City
Daniel Tiger Trolley Stand Up: Walmart
Trolley Banner On Cake Table: MimiandLalas
I can't wait to plan his next birthday!

**This post contains affiliate links. If you click some of the links here and make a purchase, I get a small commission at no additional cost to you! This helps support this site and my family. I only recommend and link to products I love and/or have tried myself. Thank you for supporting us!**